Posts for tag: root canal treatment
By Dale C. Evans, DDS
September 01, 2018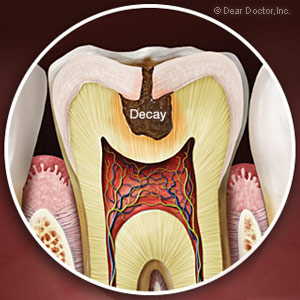 It's absolutely critical to stop tooth decay and repair any damage to tooth structure. Hopefully, we've caught it early in the enamel and dentin where we're able to repair any holes or "cavities" that might have developed by filling them.
But what if the decay has crept deeper into the interior of the tooth? In this case, you're at a much higher risk of eventually losing the tooth. If the decay has spread into the bone, a root canal treatment is usually your best option.
The first sign that decay has invaded the pulp, the innermost layer of the tooth, and the root canals may be a severe toothache. It's different from the wince of pain or discomfort caused by sensitivity to temperature or pressure. Inner decay pain is constant and often excruciating. This is because the infection is attacking the nerves bundled within the pulp chamber.
The pain can last for several days, and then suddenly stop altogether. No pain is good news, right? Wrong — the pain has stopped because the infected nerves have finally died and can no longer signal the brain. The infection, though, is very much alive and will continue to advance toward the root where the damage may eventually cause you to lose the tooth.
A root canal treatment removes decay in the pulp chamber and canals. We first drill an access hole to enter the pulp chamber. Once inside, we use special instruments to completely remove all tissue and disinfect the empty chamber. We then fill the chamber and root canals with a special filling and seal the access hole to prevent further decay. A few weeks later we install a custom crown to protect the tooth further.
If you have a toothache, or you've had one that suddenly went away, you should schedule an appointment for a dental examination as soon as possible: this is the only way to accurately determine the cause of the pain. If a root canal is deemed necessary, the sooner we perform it, the less chance the infection will cause you to lose your tooth.
If you would like more information on root canal treatment, please contact us or schedule an appointment for a consultation. You can also learn more about this topic by reading the Dear Doctor magazine article "Signs and Symptoms of a Future Root Canal."
By Dale C. Evans, DDS
April 09, 2017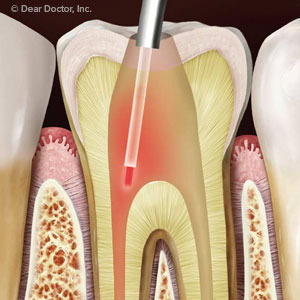 As in other parts of medicine, lasers are beginning to change the way we provide dental care. More and more dentists are using lasers to make earlier diagnoses of dental disease or provide surgical treatment. One area prime for change is the treatment of teeth with deep decay and in danger of being lost.
For decades now, the best way to save teeth in this condition is with root canal treatment. In this common procedure we access the pulp, remove the infected tissue with specialized hand instruments, and then fill and seal the pulp chamber and root canals with a special filling.
We can now potentially improve the efficiency and increase the success rate of this treatment with laser technology. With their focused light, lasers emit a concentrated burst of energy that's extremely precise. In many instances laser energy can remove the target diseased tissue without damaging nearby healthy tissue.
In this form of root canal treatment, we use lasers to remove tissue and organic debris within the pulp and then shape the root canal walls to better receive the filling. We can also utilize the heat from laser energy to soften and mold the filling, so that it better conforms within the walls of the root canals.
Using lasers in root canal treatments may require less local anesthesia than the traditional approach and also eliminates disturbing or discomforting sounds and vibrations. Dentists who've used the new technology also report less bleeding during the procedure and less pain and occurrences of infection afterwards.
But there are a couple of disadvantages for using lasers in root canal treatment. For one, light travels in a straight line — and many root canal networks are anything but straight. More complex root canal networks may still require the traditional approach. Laser energy could also increase the tooth's inner temperature, which could potentially damage tissues even on the tooth's outer surfaces.
Used in the right circumstances, though, lasers can be an effective means to treat diseased teeth. Â As laser technology continues to advance and becomes a mainstay in dental care, you may soon find it part of your next dental procedure.
If you would like more information on root canal treatments, please contact us or schedule an appointment for a consultation.
By Dale C. Evans, DDS
June 20, 2016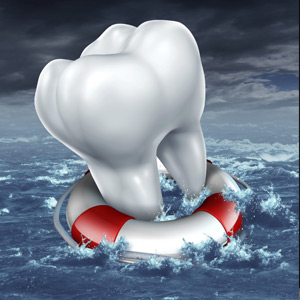 Over a lifetime, teeth can endure temperatures ranging from freezing to near boiling, biting forces of as much as 150 pounds per square inch and a hostile environment teeming with bacteria. Yet they can still remain healthy for decades.
But while they're rugged, they're not indestructible — they can incur serious damage from tooth decay or periodontal (gum) disease, two of the most prevalent oral infections. If that happens, you could be faced with the choice of removing the tooth or trying to save it.
Because today's restorations like dental implants are quite durable and amazingly life-like, it might seem the decision is a no-brainer — just rid your mouth of the troubled tooth and replace it. But from a long-term health perspective, it's usually better for your gums, other teeth and mouth structures to try to save it.
How we do that depends on the disease and degree of damage. Tooth decay, for example, starts when high levels of acid soften the minerals in the outer enamel. This creates a hole, or cavity, that we typically treat first by filling with metal amalgam or, increasingly, composite resins color-matched to the tooth.
If decay has invaded the pulp (the innermost layer of the tooth), you'll need a root canal treatment. This procedure removes infected material from the pulp and replaces the empty chamber and the root canals with a special filling to guard against another infection. We then cap the tooth with a life-like crown for added protection.
Gum disease, on the other hand, is caused by dental plaque (a thin film of bacteria and food particles on tooth surfaces), and requires a different approach. Here, the strategy is to remove all of the plaque and calculus (hardened plaque deposits) we can find with special hand instruments or ultrasonic equipment, and often over several sessions. If the infection extends deeper or has created deep pockets of disease between the teeth and gums, surgery or more advanced techniques may be necessary.
Though effective, some of these treatments can be costly and time-consuming; the tooth itself may be beyond repair. Your best move is to first undergo a complete dental examination. From there, we can give you your best options for dealing with a problem tooth.
If you would like more information on the best treatment approach for your teeth, please contact us or schedule an appointment for a consultation. You can also learn more about this topic by reading the Dear Doctor magazine article "Save a Tooth or Get an Implant?"